If you have any question, you can send an email to the Webmaster:
webmaster at romanes.com



Frequently asked questions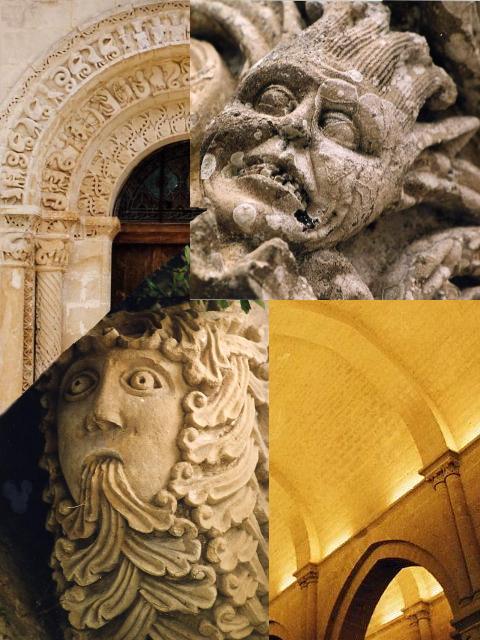 Why this name romanes ?
First, it is a shortcut to "Pierres Romanes", Romanesque stones, which has been shortened into Romanes.com. Romanesque art is closely linked to the stones because it is represented with it, at a time where God's house was built with stones (See the book
"la Maison Dieu"
)
What do represent the logo ?
The logo is a reduced picture of the one used on the
Homepage
between 2000-2002 presenting pictures from the Saintonge region where is
Aulnay
and its fantastic sculptures and the door from
Benet
.
Can I make la link to your site ?
You can ,if you need you can use the following logos:

I appreciate romanesque art and would like to do fome pictures, can you give me some advices ?
L'art roman c'est l'art de la pierre avec celui de la lumière, la photographie en intérieur au flash est toujours terne car elle diminue le relief. Le trépied est l'outil nécessaire, il permet aussi de prendre son temps pour mieux préparer la prise de vue.
Why my region/town is not present on this site ?
Regions and towns are presented following trips and contributions to the site. You can contact us if you wish to contribute to pictures or articles to be added to the site.
Who does this site and for what use ?
This website presents photographies and illustrations that everyone can see on the web, and we wish to allow everyone to have access to information regarding romanesque art. Lot of information is also availmale to go further with the
sites maps
, the
interactive map
et sur
Google Earth
, les
chronologies
and
historical maps
, the
trips and itineraries
... Everyone is welcome to participate
by contacting us
, we will keep you informed on the way to do it.
Can we reuse the site contents ?
Use of the site material is only authorized through a non commercial use, share alike and by giving credits. High resolution pictures for printing are available on demand, we only ask you to keep us informed on the use, use appropriate credits on use and a copy of the work so we can tract its usage. All commercial use, please
mail us
so we can see how to answer to it.
About pictures from this site:
Pictures presented on this site are the property of their authors. They are produced in majority in JPEG RGB A4 ou A3 format.
Picture use can be granted with prior autorization of their respective authors regarding their use.
Some information on this site:
Launch date: 1998
Number of pictures: 15 000
Number of places: 260
About pictures and web sizes:
web: from 400 pix to 1000 pix - 72dpi
A5: about 2480 x 1760 pix / 210 x 148mm - 300 dpi
A4: about 3620 x 2515 pix / 306 x 213mm - 300 dpi
A3: about 5080 x 3590 pix / 430 x 300mm - 300 dpi
These sizes can vary between format (round or panoramic) of each picture.
Emmanuel PIERRE


Material used:
Canon EOS 5D
Canon EF 14 f/2.8 L USM
Canon EF 17-35 f/2.8 L USM
Canon TSE 24mm f/3.5 L
Sigma 28-70 f/2.8 DX EF
Canon EF 70-200 f/2.8 L USM
Canon EF II 2x
Canon SpeedLite 550 EX
Canon ST-E2
Fujifilm 100fd
Canon EOS 3
Canon A80
Canon AE-1
Canon FD 24 f/2.8
Canon FD 70-210 f/4
Olympus Centurion Silver APS
Digital scan
Nikon Coolscan LS-40 / Vuescan
Epson Perfection 1650 Photo / Vuescan
Fuji Frontier
Post-production
PTLens
Gimp
Photocleaner
Michel Claveyrolas

Material used:
Sony A350.
18/70mm f3,5/5,6
Minolta AF 28 - 85
Tamron AF 80 -210
Panasonic DMC-TZ1
Minolta Dynax 700 si
Nikon
Digital scan
Nikon Coolscan LS-40
Nikon Coolscan LS-50
Stephane GOURICHON

Material used:
Canon Digital Ixus